Avon Fast Start Programme
2016 sees the launch of Avon Fast Start, one of the most exciting reward programmes Avon have developed since I started ten years ago! I almost want to start again !!
The Avon Fast Start cash rewards enable new Sales leaders to earn up to £16,000 in bonuses in their first year…..personally I think this makes Avon one of the most appealing MLM businesses currently around.  All you have to do is GROW your team and GROW your sales every campaign to achieve.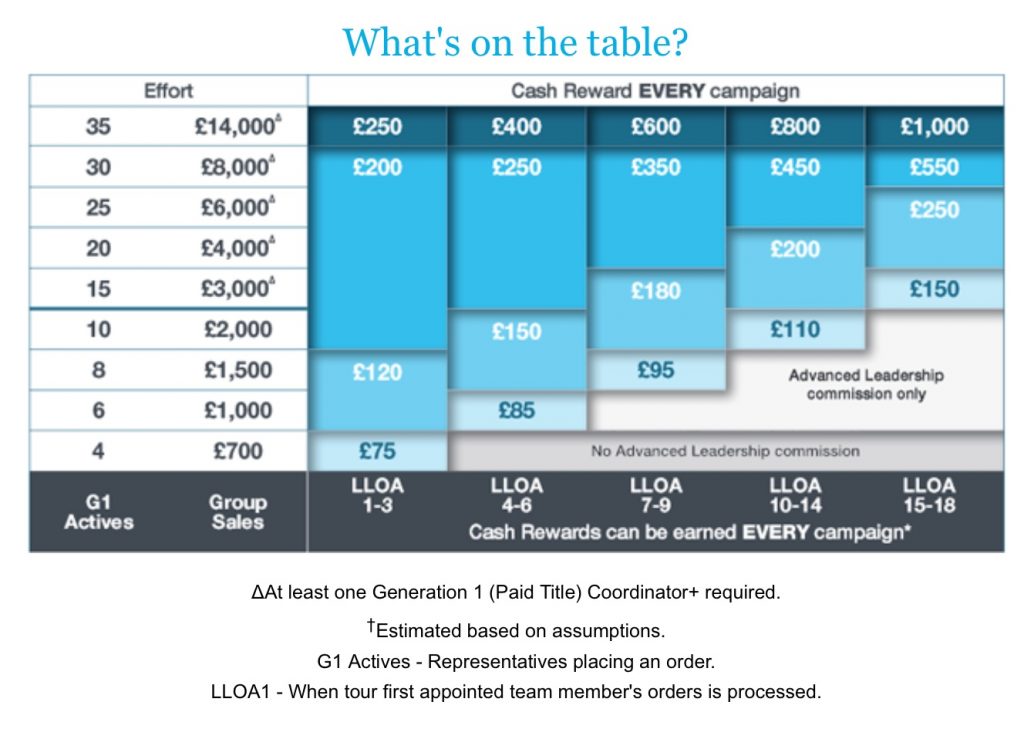 LLOA is Avons' terminology for 'leadership length of association' …. when your first team member places an order you will be classed as LLOA1 and join the Avon Fast Start Programme.  So all you need to start earning are;
Four active team members with combined group sales of £700, plus place your own (PSQ) personal sales qualifier – currently £87 and you will earn a reward of £75.*
If you had five active team members, PSQ and £1000 in group sales your reward would be £120.*
if you are a real high flyer and had 10+ with qualifying group sales plus PSQ, the bonus rises to £200.*
The top level is 35 active team members, PSQ and £14,000 group sales for a £250 bonus. *
Avon campaigns are three weekly and in your second campaign you would be classed as LLOA2 and be eligible for the rewards again.  When you reach LLOA4 you will move to the second step on the Fast Start Bonus and be eligible for bonuses up to £400 per campaign.
Achieve coordinator level with five active team members, your PSQ and combined group sales of £1000 and you will earn Advanced Leadership commission on team sales.*
*see the Avon website for full t&c's
The great bit is that you get full support from your upline sales leader and area manager – with the backing of an iconic global company – selling products that are household names in over 100 countries worldwide – what are you waiting for????
#workityourway is trending around Avon currently and this new reward scheme echoes this perfectly.  The tiers make the rewards achievable for all, whether you wish to commit a few hours a week or want to make this a full time business.
If you are savvy on social media then have a look at my Online Store blog post – Avon representatives will have the opportunity to take their businesses nationwide from February 2016.
If you would like more information on selling Avon Online please visit https://makeupinbusiness.co.uk/avon-faqs/ and download our FREE 30 FAQ's about joining Avon.
To join Avon Online please visit – https://makeupinbusiness.co.uk/join-avon
To buy Avon Online please visit – https://www.avon.uk.com/store/beautyonline
Zoe Davies – Avon Independent Executive Sales Leader
Shopping With Avon;
Are you Interested in Joining Avon?;
Avon Tips For Representatives;