The MakeUpInBusiness guide to staying safe in the sun.
We all yearn and crave for sunshine, it makes everyone happier and helps produce Vitamin D that is essential for our body, but you can put your health in jeopardy if you don't stay safe in the sun.
While skin cancer is on the rise it need not be inevitable.
Your skin is at risk under the blaze of the summer sun however, you can take precautions that will help you stay safe once you understand the jargon of sun cream.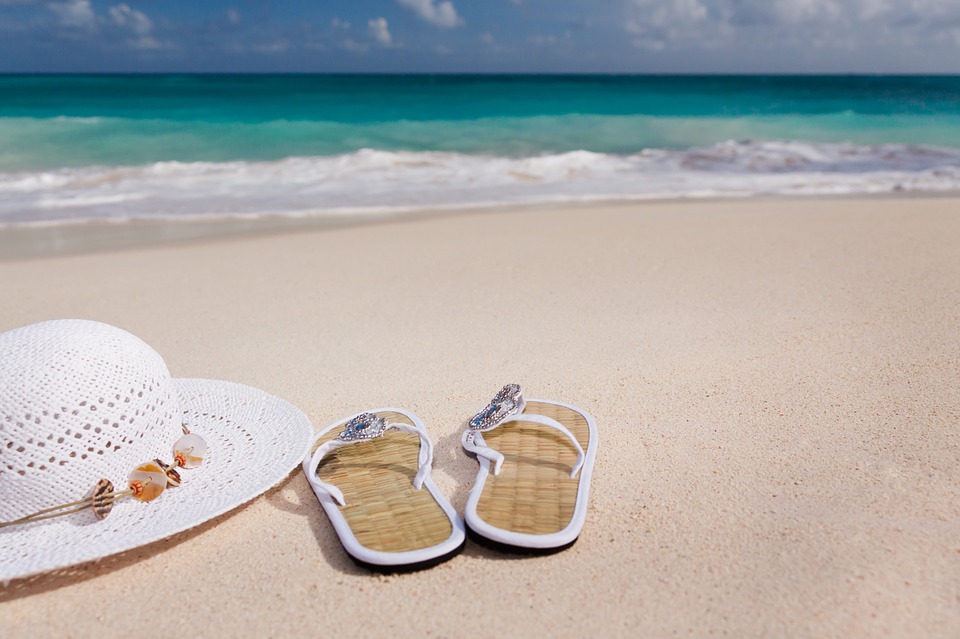 But before you even think of slapping on the sun cream there are a few common sense pieces of advice you should take. Especially when abroad, don't lie out in the sun between 12 noon and 3pm. The old saying "Only mad dogs and Englishmen go out in the midday sun" has some truth in it.
And, remember to take some time in the shade and drink plenty of water. Plus, it's a good idea to wear a hat, scarf or bandana to cover your hair – no-one wants to slather sun cream over your hair, but your scalp can also get sun burnt.
Now that you're set to get that healthy glow and relax you need to select your sun cream. There is a bewildering array of labels on the packaging but before you select you should know a little about your skin type.
What does SPF mean?
The classification of skin tone comes as a result of your natural skin tone. There are six types of skin tone, known as phototypes, with the darker tones having more natural pigmentation as protection. Even the darker types of skin tone can burn and suffer damage, so it is important for everyone to learn what SPF means.
The letters stand for Sun Protection Factor, which is a standard set in testing as the amount of protection from ultraviolet B radiation (UVB) protection. It ranges from two to 50+.
Put simply the SPF means you can calculate how long you can spend in the sun. For example if you apply Factor 20 this would allow you to spend 200 minutes in the sun, using the formula 10 minutes multiplied by SPF20).
However, it's not that simple (and who really would almost two hours sunbathing!).
How often should you apply sun cream?
Firstly the tests that give a sun cream its SPF rating are done in the laboratory, not on the beach or strolling along the seafront.
When it's warm we all sweat, even if it is so slight we don't notice it. That sweat waters down the effect of the sun cream meaning we have less protection with every passing minute.
And, while many are waterproof the chlorine in swimming pools and the salt in sea water will dilute the cream to a lesser or greater extent.
That means that you will need to re-apply the sun cream after over an hour or so in the sun. This isn't manufacturers or retailers trying to sell more, it's about your skin and how to prevent temporary or even permanent damage.
What many people also need to know is that sun cream can take to activate, so apply it in the shade before venturing on to the sun lounger.
You should also think about other issues that may affect what SPF you chose. If you have dry skin or have allergies. There are also some medications that can affect how sun cream works, so it might be an idea to check with your pharmacist if the medication you may be on can effect how sun cream works. Don't rely on the internet as your pharmacist can check quickly or may already know.
There are also some citrus fruits such as lime that may reduce the effectiveness of your sun cream so that Key Lime Pie might look tempting but…
Beware the breeze. It may seem that it is cooling and pleasant, but it doesn't stop the sun burning. It may be that walking around the shops or while on a boat trip you find that breeze refreshing but that doesn't mean you can skimp on applying the sun cream.
If you have children with you make sure they wear a cap with a peak and apply the Factor 50+ liberally. Early damage to the skin can last and have potentially devastating outcomes.
So whether you are a sun worshipper, a casual wanderer in the brighter weather, or enjoying the attractions in the theme parks always have your sun cream close at hand, ready to re-apply – you only have one skin, don't damage it!
Avon sun creams
Avon have a wide range of sun cream and this year, exclusively designed for Avon there is the sun safety bracelet.  With an adjustable strap to fit most wrist sizes and a reusable, waterproof design this is perfect for kids.  The front of the bracelet changes colour with UV exposure and the symbols indicate when it's time to find some shade!
Sun cream spray is available in a 150ml quick dry clear spray with SPF 30 and a 150ml moisturising sun spray in SPF15.  Both formulas are non-greasy and waterproof.
Face the sun with creams designed just for your face. Face lotion SPF 30 (50ML), anti-ageing face cream SPF50 (50ml) and a protecting lip balm in SPF30.
Moisturising 150ml lotions are available in SPF10, SPF25, SPF30 and SPF50.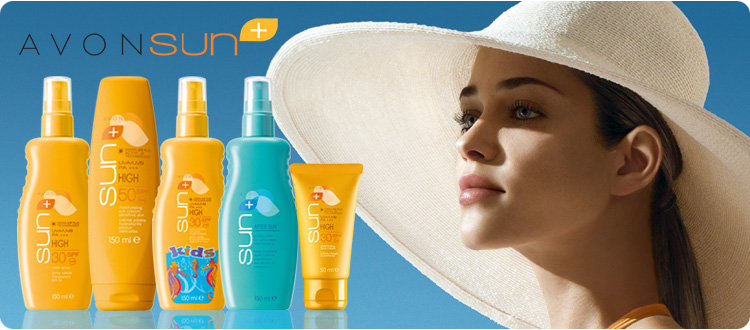 Protect and glow 150ml is a tan boosting formula designed to boost melanin production for a better tan SPF30.
Fresh protection lotion 150ml is a skin cooling, lightweight and non-greasy formula with fresh, cooling technology SPF30.
For sensitive skins there is 150ml pure and sensitive, hypoallergenic, fragrance free with vitamin E for sensitive skin SPF50.
Specially developed kids creams include swim and protect SPF50 (150ML), multivitamin sun cream SPF50 (75ml) and kids turquoise spray SPF30 (150ml)  All of the kids sun protection formaulas are non greasy, water-resistant, hypoallergenic with UVA/UVB protection.
Soothing after suns; after sun lotion 400ml, after sun shimmering tan enhancer 150ml, after sun spray lotion 150ml, after sun ice gel 150ml and after sun body butter 200ml.
Prices range from £2 to £12 – but keep an eye out for the special offers in the brochures, they are often on offer as mix and match at 2 for £8 or 3 for £12!!!
To buy Avon Sun Creams Online please visit – https://www.avon.uk.com/store/beautyonline
Understanding Your Skin Type – A Complete Guide
Taking care of your skin is very important – after all, it's your body's largest organ, protecting you from the outside elements. However, did you know that not everyone has the same skin type? In fact, there are five different skin types, each with their own behaviors and sensitivities.
TAKE THIS QUIZ TO FIND OUT WHAT SKIN TYPE YOU HAVE!!! —– healthstylehub.com/skin-type/
Shopping With Avon;
Are you Interested in Joining Avon?;
Avon Tips For Representatives;
To join Avon Online please visit – https://makeupinbusiness.co.uk/join-avon
To buy Avon Online please visit – https://www.avon.uk.com/store/beautyonline
Zoe Davies – Avon Independent Executive Sales Leader