Avon Growth Plan Overview
There are four fantastic ways for you to earn with Avon Sales Leadership, Discount on Sales, Coaching Commission, Team Bonus and Development Bonus.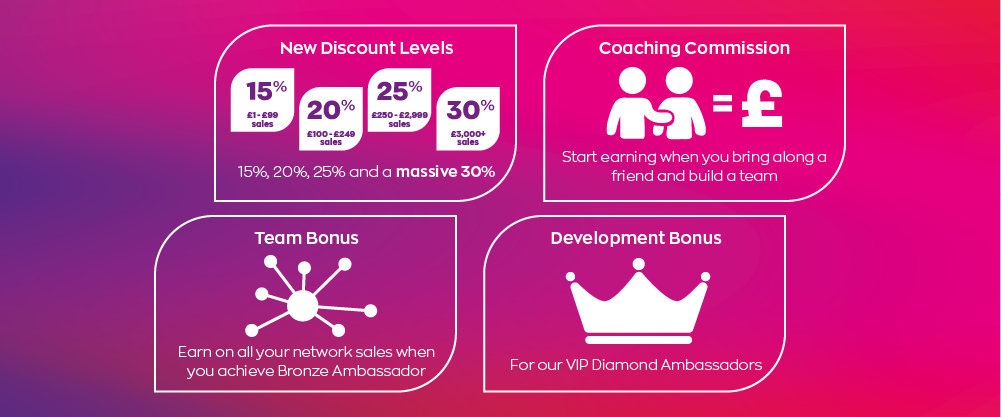 Rewards and Support
There is a fantastic support network when you start Avon Sales Leadership and a great bonus programme – Jump Start.
A dedicated website and support telephone line
Regular online newsletters
Dedicated Facebook support groups and a training platform called Avon Connects.
A 90 day Sales Leader Training plan.
Plus recognition, events and fantastic incentives to reward you as you succeed!
Laurens Avon Journey – I am a young mum of 2 boisterous boys. A couple of years ago I had to swap my full time job for staying home to be with them and it was HARD! 

But I decided to give Avon a go with sales leadership in 2017. During that period I was on the fast start bonus and earned £3820 in bonuses on top of my wages !! It's amazing and my business has just gone up and up from there.

In the last 6 months I Avon have introduced a new bonus scheme BBB(business builder bonus)which I got over £1000 in just one campaign before Christmas this enabled me to finally complete my driving lessons with an intensive driving course and get my first car which is an amazing change for me and my boys, it gives us so much freedom.

I'm so glad I made the choice to give Avon a go it's been the best move for me and my boys, I can make my own hours, don't need to worry about childcare on school holidays , or kids sick days , take the kids on holiday when I want and be there for every school event they want me there for so they never have to wonder if someone's coming.  Join Lauren at www.makeupboxreps.co.uk 
Jump Start –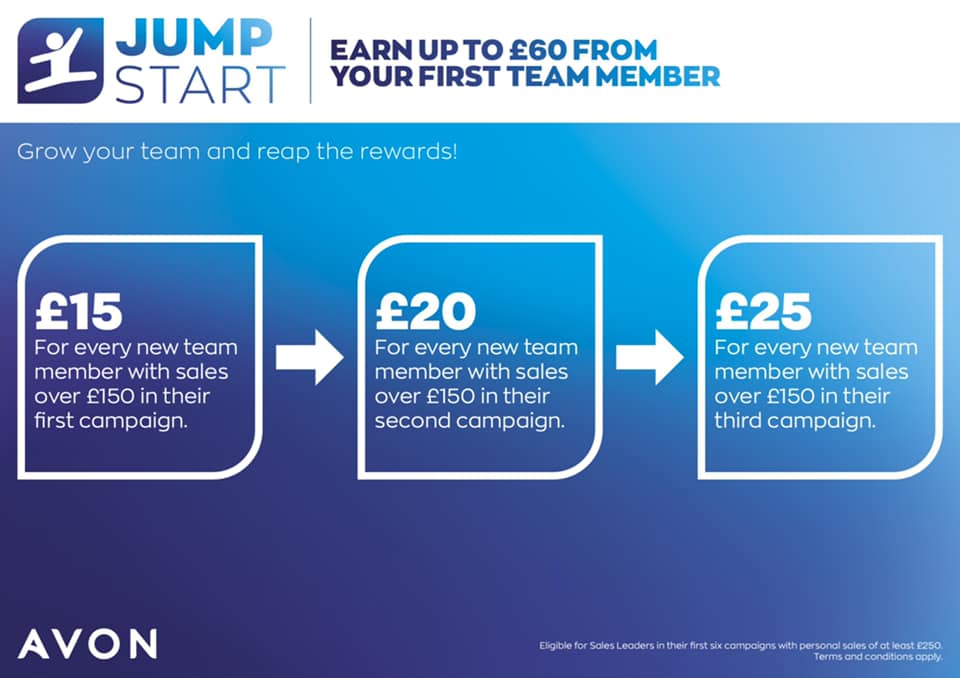 For sales leaders in their first six campaigns Jump Start is a great way to kick start building a new team. Bring a friend to Avon and you could earn cash bonuses for each one that joins you!
As well as Jump Start bonuses to get you started on your team building journey you will also be eligible for First Time Promotion Bonuses, unlimited Mentoring Bonuses and Consistency Bonuses
Avon Growth Plan levels –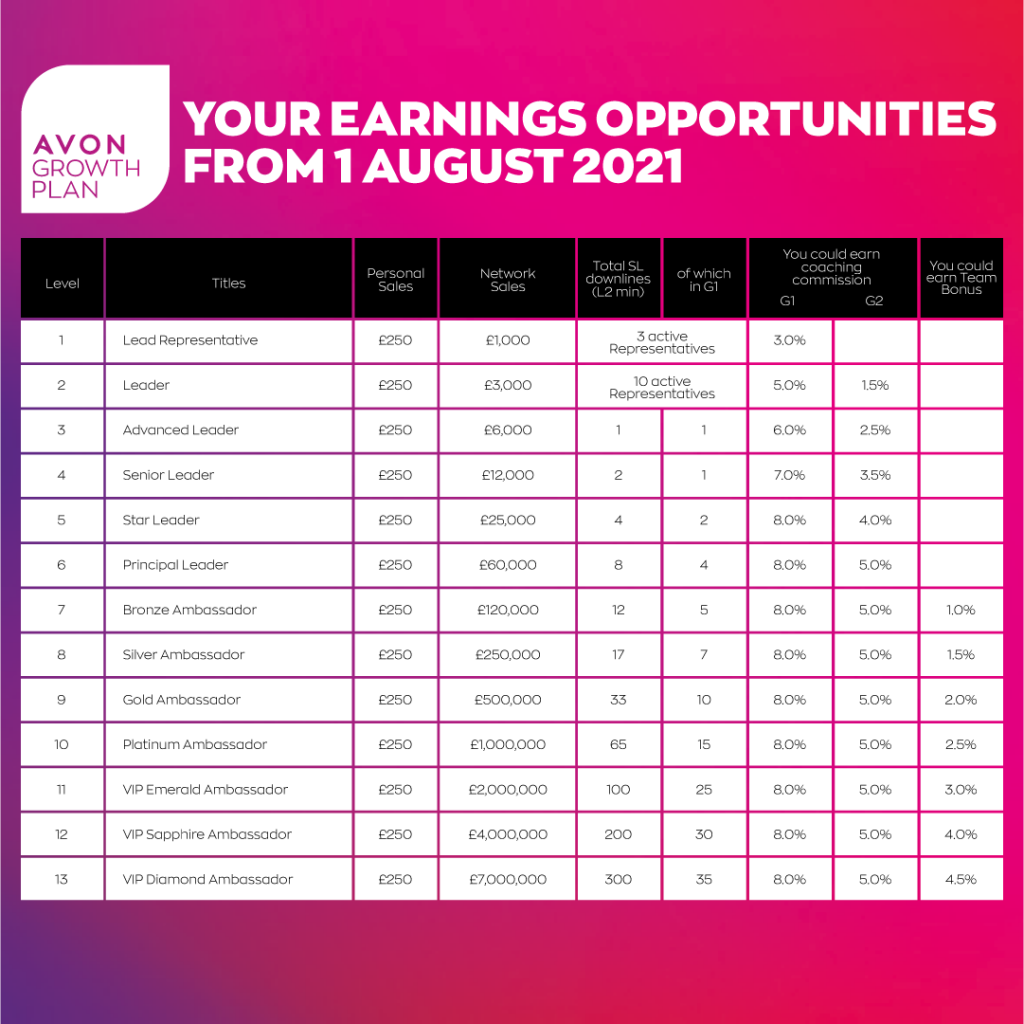 *Potential annual earnings are based on assumptions.
**Estimation based on assumptions.
Why Join us to Start Your Avon Business?
Have you been looking for a partner to work with to grow a network marketing business? Someone who's been there and knows the ropes, yet is approachable and supportive?
Maybe you've tried network marketing and had a little success, but know that with the right support you could fly!
Are you motivated, self-driven, a go-getter and looking to partner with an experienced network on a 1:1 basis.
Do any of the above resonate? I'd love to hear from you.
Helen Halford – I was working on the checkouts in a well-known local supermarket and unfortunately they promoted a not very nice person to a supervisor.  I basically lost every bit of confidence I had, so the doctors advised me after having 2 months on the sick to leave the job and I can honestly say it was the best thing Ive ever done in my whole life. I then started my own little cleaning business and Avon at the same time in February 2013 and both businesses started to grow very nicely. Four years later I have all my confidence back and am as proud as anything to say I have been a Avon sales leader since January 2017 and have 40 people in my team and plan on keeping it growing and over 100 customers that purchase Avon from me. The cleaning business is slowly starting to fold as my love and passion for my Avon career grows by the day it was certainly the best thing I ever did joining Avon.
Save