Vitamin E: The Key To Healthy, Younger-Looking Skin
Getting clear and healthy skin isn't as easy as you think.
For a lot of people, it's about investing in expensive skincare products. For others, it's sticking to a particular skincare routine.
But, you know what?
The key to younger, beautiful skin isn't really just about the product you're using or the routines that you do. It's more about how well you take care of your skin from the inside.
If you are eating too many junk foods or you always sleep late at night, the expensive skin care products you're using won't be able to help your skin. You're just practically wasting money.
So, what's the secret?
Feed your skin right.
There are tons of healthy foods for healthy skin. Take, for example, vitamin E.
It's rich in antioxidants which can help neutralize free radical damage and prevent premature skin aging.
Vitamin E can also boost your skin's collagen production, making your skin more elastic and supple. It can help diminish the appearance of blemishes and acne scars, too.
The list of benefits is practically endless, if you think about it. And what's great about vitamin E is that you can take it orally or use it topically.
To get a better understanding of this vitamin and why it's great for the skin, here's a handy infographic you can check out. Vitamin E: The Key To Healthy, Younger-Looking Skin.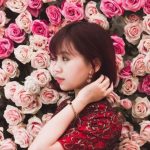 "Hannah Do is the founder of Thank Your Skin, a beauty blog dedicated to providing honest skin care advice and information. She aspires to help her readers achieve their most beautiful skin by sharing personal tips learned through both years of experience and thorough research. Click here to check out her latest article. You can find her on Twitter, Pinterest and Facebook"