Best Avon Foundation for Your Skin Type
When it comes to achieving a great makeup look with a flawless finish, the importance of the correct foundation for your skin type cannot be stressed enough. As the name of the product suggests, your foundation is the base layer of your makeup, and getting this first step right makes a massive difference to how good your skin looks, and how the rest of your makeup will apply.
Spot Prone Skin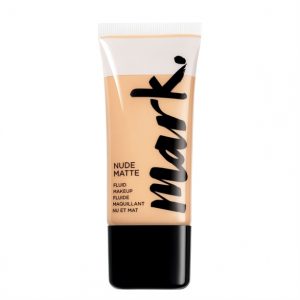 Most people prefer a fuller coverage foundation when they have spots or acne, which is fine if you make sure to remove it properly every night! Going to bed with a full face of makeup is a big no-no at the best of times, but especially if you already suffer from bad break-outs.
Those with spot-prone skin are likely to also have oily skin, so it's best to use an oil-free liquid foundation, or powder foundation if you prefer lighter coverage.  Avon mark. nude matte fluid foundation has an oil-absorbing matte finish with lightweight to sheer coverage.
Apply liquid foundation using clean fingers. Brushes, unless cleaned regularly, will spread spot-causing bacteria.
Sensitive Skin
People with sensitive skin usually need to be careful about which shampoo, conditioner, shower gel, and moisturisers they use, and foundation is no different. Sensitive skin foundations often contain Vitamin E and chamomile, two ingredients with soothing properties.
Mature Skin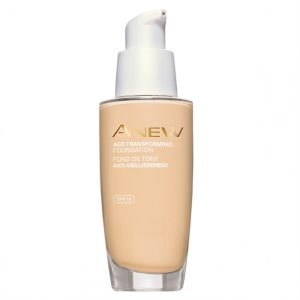 The golden rule for more mature skin: less is more. As you get older, heavier product can settle into fine lines and wrinkles, so it's best to use a light coverage foundation that is buildable, or even a good tinted moisturiser. Full coverage foundations and solid foundations are likely to look cakey, and will make you look older.
For an added boost for your skin, look for products that contain anti-ageing ingredients. Avon's Anew Age Transforming Foundation contains SPF15, elastin and collagen and helps skin look and feel up to three years younger in just four weeks!
Dry Skin
The first step with dry skin is to use a good moisturiser before applying your makeup. This will help quench dry skin, but will also make it easier to apply and blend your foundation.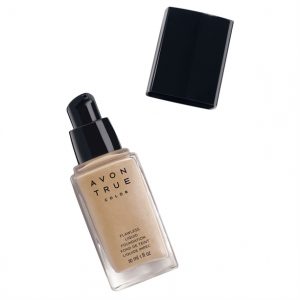 Use a light coverage foundation that is buildable, and in this case, don't go oil free. You're going to want a foundation that leaves a dewy finish, rather than a matt glow. Light liquid foundations or stick foundations are best, and apply using a beauty blender to gently press the makeup on to the skin, as opposed to rubbing it in. Avoid mousse foundations, as these tend to highlight dry patches, resulting in a chalky appearance.  Avon True Colour flawless liquid foundation has a light weight, moisturising formula in eighteen shades.
It doesn't matter what level of coverage you prefer, or what kind of finish you want, there is a foundation out there suitable for everyone's skin type that will make your natural beauty shine through, it's just a matter of finding the right foundation for your skin type.
Shopping With Avon;
Are you Interested in Joining Avon?;
Avon Tips For Representatives;
To join Avon Online please visit – https://makeupinbusiness.co.uk/join-avon
To buy Avon Online please visit – https://www.avon.uk.com/store/beautyonline
Zoe Davies – Avon Independent Executive Sales Leader