Avons Argan oil – the 'liquid gold' that you never knew you needed.
It's no secret that different hair types require slight changes in their hair care routine. For instance, straight-haired girls often find it necessary to wash their hair every other day because of oil buildup, but curly and kinky-haired girls can get away with washing every two weeks due to how long their natural oils take to navigate the bends and curves in their hair shaft.
However, when it comes to caring for your prized locks there are a variety of steps that are definitely important, no matter what your hair type. Regular washing and conditioning are a must for clean, healthy hair. Deep conditioning is important for softening, nourishing hair and moisturising is essential to keep your hair hydrated. However, one aspect of hair care that is arguably the most important is the use of oils.
How is oil used in haircare products?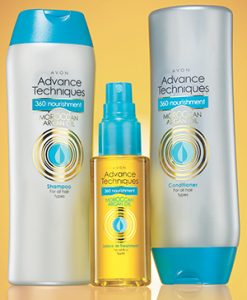 Oils appear in virtually every hair product; shampoos, conditioners, leave-in treatments and even heat protect sprays often contain some type of oil – and for good reason! Without the presence of oil, moisture in the hair shaft evaporates from it more quickly…..meaning that your hair gets drier quickly and more often.
Oils help to lock in moisture by providing a layer around the hair that means the moisture evaporates at a much slower rate. Therefore, regardless of any moisturising or deep conditioning that you do, if you don't follow it up with an oil application you're working against your hair not with it. Oils nourish hair in a myriad of ways. Different oils often contain different makeups and properties and can even be used to treat skin or hair conditions that you may have.
Some of the most popular oils used in hair care are coconut, olive and castor oil, but there's one oil that stands out considerably above the rest, being referred to as 'liquid gold' by many. This wonder oil is none other than Argan oil.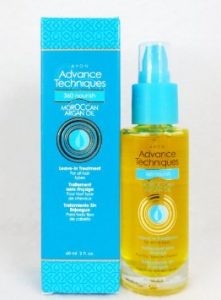 Argan oil comes from the Argan tree that is found in Morocco. It contains a high amount of fatty acids and vitamin E, making it extremely popular in hair and even skin care.
It can be used to;
moisturise hair,
to give hair shine,
soften hair,
tame frizz
soothe dry/itchy scalps!
With such amazing properties Argan oil is in high demand on the hair product market, but some products usually hold steep price tags that are almost ridiculous. But there's no need to fear. With Avon's Advance Techniques 360 Nourish Moroccan Argan Oil Leave-In Treatment, you can experience the amazing benefits of argan oil for a fraction of the price of other high-end products.
Advance Techniques 360 Nourish Moroccan Argan Oil Leave-In Treatment.
The Advance Techniques 360 Nourish Moroccan Argan Oil Leave-In is formulated to boost your hair's health. At only £5.50 in my Avon store, it not only contains argan oil, but also additional doses of vitamin E and vitamin B5 that nourish, strengthen and soften dry and damaged hair. This leave-in is used like any other leave-in conditioner, but far surpasses others in quality. Hair is left shiny and silky, with added body that's almost weightless. What's more – it's great for all hair types! The thicker your hair, the more product you may have to use to cover your strands, but you'll be pleasantly surprised at how frizz-free and healthy your hair looks.
The Advance Techniques also soothes and nourishes the scalp, relieving itchy and dry scalp to give your hair a healthy environment for optimal hair growth. This leave-in treatment is great for color-treated and even bleached hair, providing both the moisture and nutrients that it needs to regain its thickness, softness and shine.
In conclusion – regardless of your hair type and whether it's experienced extensive damage or not, Argan oil can be the turning point for your hair's health and look.  Avon's Advance Techniques 360 Nourish Moroccan Argan Oil is proof that you don't need to spend a lot of money to get the benefits that you deserve.
To join Avon Online please visit – https://makeupinbusiness.co.uk/join-avon
To buy Avon Online please visit – https://www.avon.uk.com/store/beautyonline
Zoe Davies – Avon Independent Executive Sales Leader
Shopping With Avon;
Are you Interested in Joining Avon?;
Avon Tips For Representatives;