Avon Advanced Leadership: Levels Overview
The Advanced Leadership structure consists of 12 titles split across 4 levels: Coordinators, Leaders, Executive Leaders and VIP.
Coordinator level is the level you will start your Advanced Leadership journey at.
Key behaviours:
• Recruiting new representatives with the support of your team leader
• Motivating and supporting your new team members
• Identifying potential sales leaders
• Building your team and aiming to advance to the next level
Potential earnings at Coordinator level are *£2500
Leader level is the next progression, with a strong focus on bringing through new sales leaders and growing your network.
Key behaviours:
• Identifying and developing other Sales Leaders
• Development of your coaching skills
• Widening your network
• Coaching your team to maximise selling
Potential earnings at Leader level are *£1400
As an Executive Leader your team will have grown downline and you will have a strong focus on training and developing downliners.
Key behaviours:
• Develop and implement training
• Strong management skills needed to guide the network
• Focus on identifying and mentoring talent
• Develop a business plan with long term goals
Potential earnings at Executive level are *£100,000
VIP – the super Elite level and where every sales leader aspires to be.
Key behaviours
Strong mentoring skills and business skills are needed to reach this top level of Advanced Leadership with a clear vision of where you want your business to go.
Potential earnings at VIP level are *£650,000
Rewards and Support
There is a fantastic support network when you start Advanced Sales Leadership with a great new bonus programme – The Fast Start Programme where you can earn a potential £16,000 in your first year as a Sales Leader.
A dedicated website and support telephone line
Regular magazines and newsletters
Access to the exclusive Sales Leader area on Avon Beauty Connects, where you can share ideas and learn from other Sales Leaders' experiences
Online training tailored to your Advanced Leadership Level
Plus recognition, events and fantastic incentives to reward you as you succeed!
If you are a team member of CosmeticRepsUK you will recieve our own support package which is tailored to make your business a success and get you off to a flying start.  Contact me on 07877401938 for details or visit www.makeupinbusiness.co.uk and apply for more details.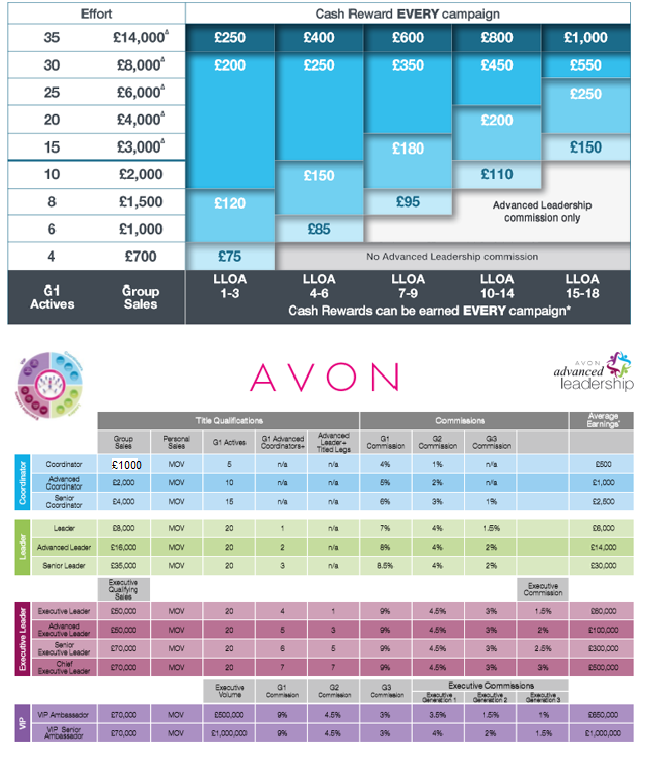 For more information on joining Avon as a Representative or Sales Leader please visit makeupinbusiness.co.uk
*Potential annual earnings are based on assumptions.
**Estimation based on assumptions.
If you would like more information on selling Avon Online please visit https://makeupinbusiness.co.uk/avon-faqs/ and download our FREE 30 FAQ's about joining Avon.
To join Avon Online please visit – https://makeupinbusiness.co.uk/join-avon
To buy Avon Online please visit – https://www.avon.uk.com/store/beautyonline
Zoe Davies – Avon Independent Executive Sales Leader
Shopping With Avon;
Are you Interested in Joining Avon?;
Avon Tips For Representatives;