10 FAQ'S ABOUT JOINING AVON
That everyone wants answered!
Have you thought about joining Avon? But just not sure what it's all about? Then read on as I have picked out the top 10 FAQ's that I get asked by new representatives.
1. How Much will I earn?
Avon representatives are given a discount on the customer orders they collect in.  New representatives join on Kickstart and can earn up to 30% depending on monthly sales.  Discount is paid on every order placed.  In your fourth month you will join Avon Rewards and can now earn up to 32% discount.
2. How will I be paid?
When you deliver your orders you collect the payment from your customer. In your delivery you will receive an invoice detailing how much your discount is and how much to pay Avon. Out of the payments you have collected in you pay Avon and yourself.
3. Will it cost me anything to join Avon?
When you register your account with Avon you will have a choice of Starter Kit, there is no cash outlay as these are sent within 48 hours on a thirteen day payment invoice, if you change your mind simply return the Starter Kit to Avon
4. I want to finish Avon.
We hope that you will stay with us long term as a member of our team. If your circumstances do change though and you need to close your account, then all you need to do is clear your balance and notify your team leader. When you have missed three orders your account will become inactive, you can reactivate your account though anytime within a year of your last order for free.
5. Do I have to sell door to door?
No – although the traditional way to sell Avon is door to door we have many team members who simply sell to friends and family, at work or through social media online.
6. What help and support do I get?
All representatives get full help and support from their team leader, area manager and Avon. Avon send weekly emails and have online training plus the official Facebook groups. As a member of our team we also provide a dedicated Facebook group for representatives and regular drop in meetings.
7. How do I pay Avon?
When you collect the money from your customers orders you keep your discount and the rest will be payable to Avon. Your invoice will have a giro slip attached that you can take to your local Post Office with the cash. If you prefer to pay by card you can do this over the phone or in your representative online account.
8. Do I need to drive?
No – you can canvass your local area to build up your customer base.
9. A customer can't pay for her order.
Representatives never pay for orders they haven't collected the money in for. In this instance we would claim a credit from Avon and deduct the amount off the amount payable. Then return the goods to Avon. Never leave an order with a customer without payment.
10. How often do orders go in?
Avon order dates are monthly through out the year, you can order as many times as you wish during each monthly selling window. There are twelve brochures a year.
For the full 30 FAQ's about joining Avon FREE E-Book

click here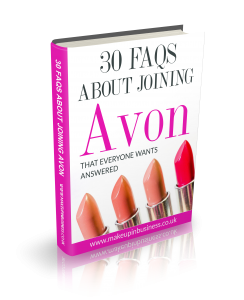 To join Avon Online please visit – https://makeupinbusiness.co.uk/join-avon
To buy Avon Online please visit – https://www.avon.uk.com/store/beautyonline
Zoe Davies – Avon Independent Executive Sales Leader