Canvassing territory is a fantastic way to build your customer base and earn more with Avon.   Tip – make sure you also approach shops and businesses in your area, these can be great places to get a number of orders from a single book left there.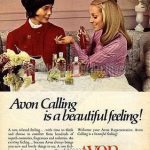 How to canvas for new Avon customers on a territory –
Use an Avon record book to record every contact – these are available to order free on code 82925.
It is up to you at this point whether you knock and ask if they would like to receive an Avon brochure or simply post them through.
If you knock on the door with a Brochure in your hand, hold out the brochure in an "offering" way, smile and introduce yourself.
" Hi I am ……… from Avon………… may I leave you this brochure. I will call to collect it on …………… or leave it outside on ……………"  make sure you return on the stated day to collect.
If you prefer not to knock then simply post the brochure through the door with a collection day on the order form – normally 2 to 3 days is sufficient
When you call back record the result in your calling book.
Always pop a calling card (available to order on 82933 pk 100 for 60p) through if the brochure is not left out and return again the following day to collect it, I have had some good orders from collecting in stragglers.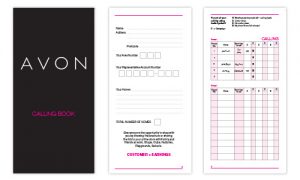 If you dont receive an order then always ASSUME they will have the next Brochure, unless they specifically ask you "not to call"
Likely responses when knocking on a door;
Thank you I love Avon (record "B" for Brochure left)
I will have a look at the Brochure (record "B" for Brochure left, they may or may not be interested)
No thank you not interested at all (mark DNC do not call)
I buy at work/family/friend record (BE = buys elsewear)
NOT AT HOMES ideally leave a brochure with some form of introduction.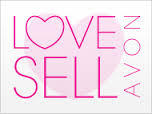 Always turn up on the day you specify to collect the brochure or deliver the order.
Avon Retailing Tips –
Give your customers an incentive, such as `spend £20 get a free gift`. Keep a stock of cheap items from your First Look magazine, or items you have obtained for free for this purpose. This may greatly increase your sales…
Pick three products from your brochure to promote to customers. Use the special message box on your customer order forms for this.
More brochures mean more customers, which leads to more sales and more money.
Promote free gifts, they increase your sales. These gifts can be obtained from your First Look at a discount price before they appear in the brochure.
Give your customers samples of products. People tend to buy more expensive products if they can try them first.
Wear Avon jewellery and scents on a daily basis. Many people notice this and ask where you got it. Give them a brochure and they tend to order it and more
Keep good customer records, the products they tend to buy. ask for your customers mobile numbers so you can phone them to see if they want an order and if you are unable to make the delivery date that you have stated. Your customers will appreciate this.
Get familiar with the products you are selling. Try them yourself. If you have sensitive skin, allergies etc, then get a friend or family member to do it. That way when a customer asks what a product is like, you will have a good knowledge
Always be positive. A good order in one campaign does not always mean that it will be the same Any other brochures left in your home are not working and therefore are not making you money.
Talk to three different people every day about Avon. By doing this you will become known in the community and you will find that people will come and ask you for a brochure.
Always carry at least one brochure with you and either a calling book or a pad to write down whom you have given the brochure to. You will pick up many new customers form the streets if they know you are an Avon rep.
The more you sell the more you earn. Show a brochure to every customer every time. There are 18 brochures each year. Aim to find at least one new customer every campaign.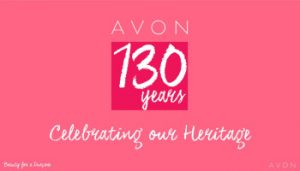 To join Avon Online please visit – https://makeupinbusiness.co.uk/join-avon
To buy Avon Online please visit – https://www.avon.uk.com/store/beautyonline
Zoe Davies – Avon Independent Executive Sales Leader
Shopping With Avon;
Are you Interested in Joining Avon?;
Avon Tips For Representatives;
Save
Save