Avon's Advance Techniques line is filled with numerous shampoos, conditioners, masks, leave-ins and styling products that are created to suit every woman's needs. Therefore it doesn't matter your age, hair type or ethnicity.  Advance Techniques line delivers salon-standard results, while at a fraction of the cost. With this line, you can improve the look and feel of your hair, as well as its overall health. All Avon shampoos, conditioners and treatments can be purchased online at https://www.avon.uk.com/store/beautyonline Here are 5 shampoos, conditioners and treatments from the Advance Techniques line that you must try:
Avon Advance Techniques Shampoos
360 Nourishment Moroccan Argan Oil
Shampoo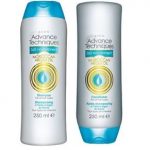 Unlike many other affordable shampoos, the Advance Techniques Argan Oil Shampoo cleanses extremely well without stripping the hair of its natural oils and moisture. It leaves hair smooth and strong with the argan oil that it contains working to tame frizz and make hair more manageable. This oil also gives great results in terms of shine, so hair not only feels great but looks great too. This shampoo delivers salon-grade results, especially when used in conjunction with the Advance Techniques 360 Nourishment Moroccan Argan Oil Conditioner and Mask. It works well with any hair type to make hair soft and healthy, a premium product at a budget price!
Absolute Perfection Shampoo
Like the Advance Techniques 360 Nourishment Moroccan Argan Oil Shampoo, the Absolute Perfection Shampoo also cleanses well without stripping or drying out the hair. It uses Advanced Shield Technology to strengthen hair and protect it from breakage and damage caused by heat use or over-manipulation. The Absolute Perfection Shampoo truly is absolute perfection leaving hair soft, silky and strong.
Colour Protection Shampoo
If you have coloured hair, you know the importance of using shampoos and conditioners that are formulated especially for colour-treated hair. While regular products may cause your colour to fade more quickly, colour-formulated products help to keep your hues rich. That's exactly what the Advance Techniques Colour Protection Shampoo succeeds in doing. It nourishes and gently cleanses hair, yet doesnt strip it of its colour therefore leaving coloured hair looking rich, vibrant and healthy. Colouring processes often damage hair.  In addition Advance Techniques Colour Protection Shampoo works to restore the health and luster back into your strands, making them smooth and soft again.
Classic Anti-Dandruff Shampoo
Dandruff can be a pain, and Avon knows that. For this reason, their Anti-Dandruff Shampoo is formulated with ZPT technology to cleanse the hair and leave the scalp itch-free, flake-free and irritation-free. It effectively relieves dandruff, and can completely eradicate it when used continuously. Like the other Advance Techniques shampoos, the Anti-Dandruff shampoo also leaves hair soft and manageable to look its best.
Dry Shampoo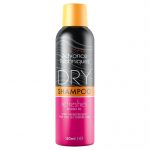 Dry shampoos are perfect for when you either have no time to wash your hair or just want to go longer between washes. With Avon's Advance Techniques Dry Shampoo, you can have all the perks of a dry shampoo while avoiding the heavy, dusty look and feel of other brands. Avon's invisible formula makes hair appear like there's nothing in it, so your hair looks soft and healthy like it usually would. This Dry Shampoo absorbs oil and odors to give you lightweight, fresh-smelling hair that's voluminous and has lots of movement.
Avon Advance Techniques Conditioners
360 Nourishment Moroccan Argan Oil Conditioner
To be used with the Advance Techniques 360 Nourishment Moroccan Argan Oil Shampoo, the Moroccan Argan Oil Conditioner helps to additionally soften hair and lock in moisture after shampooing. Its smoothing properties allow it to eliminate flyaway hairs and frizz to give you hair that tangles less, feels smoother and responds better. You don't need a lot of this thick, creamy conditioner to get the job done and unlike many conditioners on the market, it doesn't leave any residue that makes hair feel heavy and coated. Vitamin E and argan oil work together to make hair shiny and healthy, healthy hair is beautiful hair.
Absolute Perfection Conditioner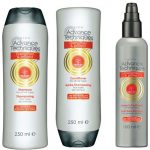 The Absolute Perfection Conditioner works together with the Absolute Perfection Shampoo to condition and moisturize hair from root to the very tips. The ends are the oldest part of the hair strand, so they need a lot more moisture and care. The Absolute Perfection Conditioner takes care of this by hydrating and softening the hair, especially at the ends. Advanced Shield Technology also adds strength to the ends by protecting them from damage and breakage, allowing your hair to grow and flourish more easily.
Colour Protection Conditioner
The Colour Protection Conditioner works just like its shampoo counterpart to benefit hair while safeguarding its colour. It provides intense hydration to colour-treated hair.  Hydration is important because when hair's natural colour is removed it becomes more porous and loses moisture more easily. Dry hair breaks, so Avon's Colour Protection Conditioner does its job to keep hair moisturized and soft. It allows enough slip to detangle hair and leaves it frizz-free. Using this conditioner means less touch-ups on your beautiful coloured hair!
Instant Repair 7 Conditioner With Keratin Power Technology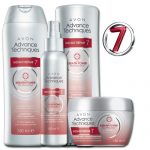 Protein is integral to healthy hair. It gives strength to the hair strands and even allows it to retain moisture better, so it's essential that you include protein in your haircare regimen. With the Advance Techniques Instant Repair 7 Conditioner, this is made easy. It's specially formulated with Keratin Protein to strengthen and protect hair, allowing it to better withstand damage. This conditioner leaves hair feeling soft and strong, and works well with all hair types to create healthier and longer hair.
Smooth As Silk Conditioner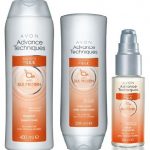 The name of this conditioner references two things: the silk proteins that it contains and the undeniable smoothness that it gives your hair. Its silk protein makeup is targeted towards frizzy hair types and especially curls, but any hair type can use this conditioner for the softest, silkiest hair that's manageable and frizz-free!
Avon Advance Techniques Treatments (Masks and Leave-In Treatments)
360 Nourishment Moroccan Argan Oil Leave-In Treatment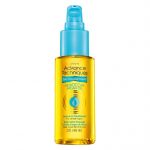 Leave-in conditioners are perfect for providing hair with an additional shot of moisture after washing. A good leave-in conditioner may be hard to find, but once you try the Advance Techniques Moroccan Argan Oil Leave-In Treatment, you won't have to look any further. This leave-in treatment combines argan oil, vitamin E and pro-vitamin B5 to nourish and moisturize hair. It restores shine and health to damaged hair in only a few uses, and gives hair effortless movement without making it feel heavy or weighed down. With this leave-in treatment, a little goes a long way to revitalize dry, colour-treated and heat damaged hair.
360 Nourishment Moroccan Argan Oil Mask
This mask restores hair from root to tip. Used after shampooing on wet hair, the Advance Techniques Moroccan Argan Oil Mask only needs to be left on hair for 5-10 minutes to do its job.  Creating lustrous, soft and smooth hair. Even if your hair is severely colour damaged or heat damaged, this mask can bring back life and health to your strands in no time.
Absolute Perfection Beauty Balm Leave-In Treatment

The Beauty Balm Leave-In Treatment is perfect for the average woman (or man!) to use on their hair. It's great for intense hydration and damage protection, and can be used every single day with no buildup. It provides hair with added conditioning after stepping out of the shower, and can be used on damp hair or dry hair for perfect results every time!
Absolute Perfection Treatment Mask

For a burst of hydration and strength after shampooing, the Absolute Perfection Treatment Mask possesses Advanced Shield Technology to give your hair the best protection it can get. This mask also seals the hair cuticle, another very important and lesser-known part of haircare. Sealing the cuticle means that it lays flat, locking moisture into the hair where it remains for a longer time. Sealed cuticles also mean more shine, as light reflects better off of flat cuticles, and smoother strands.  Flattened cuticles are smoother to the touch than upraised ones, which can create that rough feeling that every woman hates. The Absolute Perfection Mask also fortifies hair at the roots to ensure strong and healthy hair growth from the very source.
Colour Protection Restorative Mask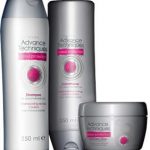 Best when used together with the Advance Techniques Colour Protection Shampoo and Conditioner.  The Colour Protection Restorative Mask is specially made to moisturize colour-treated hair. It possesses creatine to repair and strengthen your strands, which is essential for healthy hair growth and less breakage. Though it's made for colour-treated hair, the Restorative Mask can also be used on 'virgin' or untreated hair to help keep split ends and dryness at bay.
In conclusion
Avon's Advance Techniques line is perfect for those seeking salon results for reasonable prices, there's a product for every hair type. With just one use of any shampoo, conditioner or treatment in this line, you'll be convinced when you notice how much softer, stronger and silkier your hair feels. Whether your hair is dry, flaky or colour treated, the Advance Techniques collection by Avon is there to keep your hair healthy and beautiful.
To join Avon Online please visit – https://makeupinbusiness.co.uk/join-avon
To buy Avon Online please visit – https://www.avon.uk.com/store/beautyonline
Zoe Davies – Avon Independent Executive Sales Leader
Shopping With Avon;
Are you Interested in Joining Avon?;
Avon Tips For Representatives;
Save
Save
Save
Save
Save
Save
Save
Save