I was so pleased when Avon decided to launch Avon Life & Style Wellbeing range – I am a terrible workaholic and awful at balancing work/life!  Taking time for myself and relaxing is a big focus for me at the moment, when you're happy and healthy, it flows through everything else you do.
To me Wellbeing means creating a positive environment, living a relaxed lifestyle and limiting stress – which is known to have huge heath benefits.  Life can just tend to run away with us if we don't take the time to look after ourselves.
So when I was asked if I would like to review some of the new products in the range it was a definite YES!!!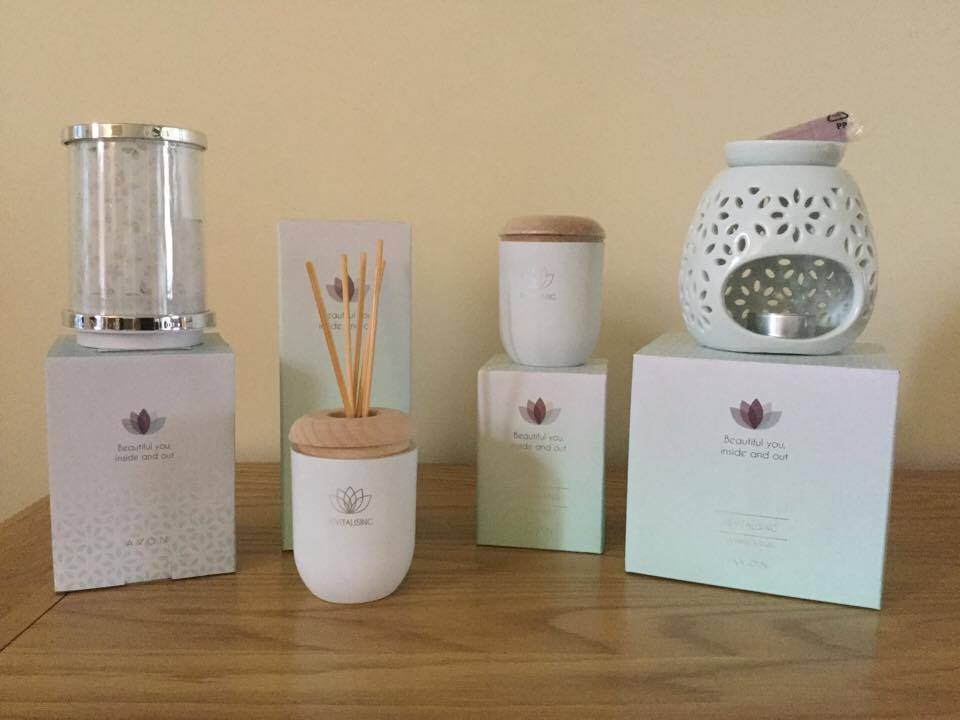 Before I even opened them I was impressed by the packaging and slogan 'Beautiful you, inside and out', these would definitely make ideal gifts and I just know my customers will feel the same as I do.  I am a massive scent fan and adore white flower fragrances, so the 'Revitalising' fragrance of green bamboo, cool cucumber and white freesias are perfect.
Firstly I tried the Revitalising Reed Diffuser, this consists of a lovely ceramic bowl with a wooden top in neutral colours which would look lovely in any home.  The reeds draw the fragrance up and are ideal for homes with pets and young children who may not want to have candles burning.  Lasting up to seven weeks as well!!
The Revitalising Lidded Candle has the same ceramic bowl and wooden top, I've always got candles burning at home, I just find them so soothing and relaxing to watch.  With the lovely revitalising scent this one may just take residence in my bathroom for when I fancy a long soak to relax.
Then onto my favourite – the Revitalising Ceramic Burner.  Again in neutral colours to complement any home this is a stylish burner and with melts included it can be used straight away, add more melts for a stronger smell.
Lastly something I've not tried before – a Wellbeing Mood Projector.  Well…..for a start it has a butterfly projector as well as stars…I love butterflys so a winner from the beginning.  I didn't realise it changed colour either…which was a lovely surprise.  Mood projectors are so relaxing and therapeutic, a great way to drift off to sleep and relieve stress and tension.
Wellbeing is health and happiness in mind, body and spirit.  I know that I will be my biggest customer for this range and will be promoting it through my social media channels and to my customers……I've had a sneak preview of some future First Looks and the range looks amazing – vibrating slippers, throws, floating bath lights, pjs……and more…..
Shopping With Avon;
Are you Interested in Joining Avon?;
Avon Tips For Representatives;
To join Avon Online please visit – https://makeupinbusiness.co.uk/join-avon
To buy Avon Online please visit – https://www.avon.uk.com/store/beautyonline
Zoe Davies – Avon Independent Executive Sales Leader