Avon Anew Advanced Resurfacing Peel
I trialled Avon Anew Advanced Resurfacing Peel before it was launched in brochure six 2016 and was really impressed.  I have sensitive skin and really thought that this product would be too much!! Although there was an initial tingling sensation, it didn't last and I could see a difference within a few uses. My skin definitely looked much smoother and brighter after the first use!!
In brochure six it's on at the amazing price of just £10 with a recommended price of £15.  Buy online at https://www.avon.uk.com/store/beautyonline and remember Avon products have a 28 day full refund guarantee, even if opened and tried!
Avon promote this as having superior results to a £185 professional facial peel …. for only £10!
Each tub contains 30 treatments so this is definitely a value for money product.
The magic ingredient is ANEWS patented Mulit-Acid 5 Complex including their highest concentration of glycolic acid (10%) and soothing botanicals for a gentle, yet effective resurfacing peel.
So how do you use this fab product?
The recommended usage is 2 – 3 times per week, simply sweep the textured side of the pad over cleansed face and neck.  Allow to dry and apply your normal ANEW serum and moisturiser.  I had a tingling sensation to start – although once my skin had dried it was fine
What results should we get using Avon Anew advanced resurfacing peel?
Smoother, brighter looking skin,
visibly more youthful skin,
reduced pores and
reduced lines and wrinkles.
I can say that with this product I 100% agree with Avon!!   Avon Anew Advanced Resurfacing Peel is a great product at a fab price.
Why wait!!!  Get this fab product now while it's at the introductory price in brochure six 2016. Buy online at https://www.avon.uk.com/store/beautyonline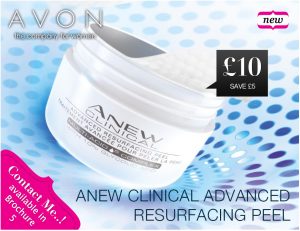 If you would like more information on selling Avon Online please visit https://makeupinbusiness.co.uk/avon-faqs/ and download our FREE 30 FAQ's about joining Avon.
To join Avon Online please visit – https://makeupinbusiness.co.uk/join-avon
To buy Avon Online please visit – https://www.avon.uk.com/store/beautyonline
Zoe Davies – Avon Independent Executive Sales Leader
Shopping With Avon;
Are you Interested in Joining Avon?;
Avon Tips For Representatives;