Celebrating 130 Years of Avon
2016 is a major milestone for Avon as the iconic company celebrates their 130th anniversary.
In 2016 we celebrate 130 years of Avon innovation and beauty – creating lipsticks, blushes, and mascaras, fragrances, lotions and serums.  More importantly though is the 130 years of creating possibility and empowering women globally. Supporting women's causes by saying NO to breast cancer and domestic violence whilst saying YES to financial independence for over 6 million representatives in over 100 countries. #WorkItYourWay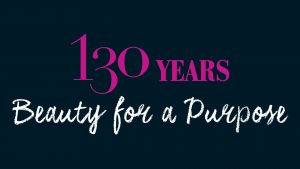 Far Away Infinity – Avon celebrates 130 years with a new fragrance;
It all started with a perfume in 1886, 130 years later Avon bring you the latest scent from the Far Away collection 'Infinity' – warm vanilla, soothing marigold and uplifting notes of sweet Indian jasmine sambac. Far Away Infinity launches in brochure 12 with a set consisting of EDP 50ml, Body lotion 150ml and EDP purse spray 10ml for the offer price of £10.
To celebrate this anniversary Brochure 12 also features a fantastic beauty icons pack worth £40 for just £15. Contents include;
Supershock mascara in black
Glimmerstick eyeliner in black
Ultra colour lipstick in carnation
True colour eyeshadow quad in stone taupes
Avon glow bronzing pearls in warm
Browse the latest Avon brochure at https://www.avon.uk.com/store/beautyonline
130 years of Avon;
In 1886 David H McConnell founded the California Perfume Company and hired the first Avon lady Mrs Albee.
1896 saw the launch of the first brochure with the first product in the range called the  Little Dot Perfume set – featuring five single note fragrances Lilly of the valley, violet, heliotrope, white rose and hyacinth.
1929 the Avon name and logo are first used on a cosmetics line.
1939 the company was renamed Avon.
1946 Avon goes public and is listed on the New York stock exchange.
1954 Avon begins operations in Venezuala as the company's first oversea expansion.
1955 the Avon foundation is founded in the US.
1961 Avon launch the Skin So Soft range.
1992 Avon UK launch the Breast cancer crusade selling crusade pins to raise funds and awareness for breast cancer.
1992 Avon introduce ANEW and are the first company to bring AHA Alpha Hydroxy Acid anti ageing technology to the mass market.
1998 the company holds its first walk to raise funds for breast cancer
2004 the Avon foundation launches its domestic violence program ' speak out against domestic violence'
2010 Avon launch 'Hello Green Tomorrow' to empower a global woman's environmental movement to nurture nature.
2015 Beauty for a Purpose was launched to empower women worldwide, through giving them beauty and financial independence. #beautyforapurpose
2016 Avon celebrate 130 years of beauty.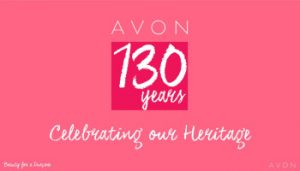 This is the company that puts mascara on lashes and food on tables. That fights wrinkles with one hand and Breast Cancer with the other. That knows the value of a perfect lip, but still opens its mouth and speaks out against Domestic Violence. This is the company that not only brings beauty to doors, but also opens them. The company that supports 6 million Representatives in over 100 countries. This is Avon. The company, that for 130 years, has stood for beauty, innovation, optimism and above all FOR WOMEN!
If you are not already a representative and would like more information on selling Avon Online please visit https://makeupinbusiness.co.uk/avon-faqs/ and download our FREE 30 FAQ's about joining Avon.
To join Avon Online please visit – https://makeupinbusiness.co.uk/join-avon
To buy Avon Online please visit – https://www.avon.uk.com/store/beautyonline
Zoe Davies – Avon Independent Executive Sales Leader
Shopping With Avon;
Are you Interested in Joining Avon?;
Avon Tips For Representatives;