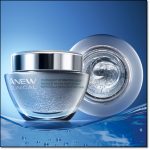 Anew Clinical Overnight Hydra Mask.
An overnight skin miracle – you can wake up to the skin of your dreams!
Anew Clinical Overnight Hydra Mask is formulated with moisturising hyaluronic acid which penetrates deep into the skins surface layers for maximum hydration and restorative shea butter beads that burst upon contact with your skin to help replenish the skins protective layer.
Shea butter is known to help retain moisture better than any other moisturiser and hyaluronic acid binds moisture when topically applied to skin.
This amazing mask boosts moisture by up to three times.
Your skin looks plump, hydrated and youthful with the look of fine lines and wrinkles reduced – skin is hydrated for up to 40 hours.
With minimal effort you can get maximum results as this mask works while sleeping, nightime is your skins best time to heal and repair itself.
Recommended usage is two to three nights a week.
You can use Anew Avon moisturiser under the Anew clinical hydra mask, I would at least recommend a serum under the cream  to maximise the benefits to your skin.
Non greasy or oily this cream won't stain your pillows.
The texture is a thick but lightweight clear gel with beads of hyaluronic acid and shea butter.
The mask absorbs into skin within a minute, can remain a bit tacky to touch.
The clinically tested gel contains no oils, parabens, fragrances and is suitable for sensitive skin.
I have been using the Anew clinical overnight hydra mask as recommended a few times a week and can definitely see a difference to my skin.  I've been using Anew Youth Restore serum to maximise the effects with pleasant results.  Skin looks plumper and younger in the morning!!  Initially I found it a bit tacky to the touch on application, this made no difference though to results.  My skin is sensitive, there was no reaction at all to the mask.  This will definitely be one I keep as part of my skin care routine.
To find out more about the benefits of Hyaluronic acid, I recommend a visit to Hannah Do's great blog post – https://www.thankyourskin.com/hyaluronic-acid-for-skin/
Buy online at www.cosmeticstoreuk.co.uk
If you are not already a representative and would like more information on selling Avon Online please visit https://makeupinbusiness.co.uk/avon-faqs/ and download our FREE 30 FAQ's about joining Avon.
To join Avon Online please visit – https://makeupinbusiness.co.uk/join-avon
To buy Avon Online please visit – https://www.avon.uk.com/store/beautyonline
Zoe Davies – Avon Independent Executive Sales Leader
Shopping With Avon;
Are you Interested in Joining Avon?;