Everywoman Retail Amabassadors Awards – Celebrating and Advancing Women in Retail.
The Everywoman Retail Ambassadors Awards 2016 –
On the 14 September 2016 hundreds of senior figures from retail brands gathered at The Langham Hotel in London  to applaud 12 inspiring women who have been appointed the 2016 Worldpay Everywoman Retail Ambassadors. The programme recognises the achievements of women excelling at various stages of their retail careers – from Store Managers and Sales Leaders to Founders. Supported by Worldpay and other forward thinking organisations, including QVC, Specsavers, SSE and Tesco, the initiative is committed to showcasing the diverse career options available whilst shining a light on the sector's role models.
The UK's retail sector contributes £339 billion to the economy and employs some 2.8 million people*. Yet while 60% of retail employees in the UK are women, they make up just 20% of retail executive teams and a mere 10% of retail executive boards**. With women estimated to make over 80% of all consumer-purchasing decisions, never before have they been considered more pivotal to the success of the sector as they are today.
I was extremely honoured to be announced as a winner at the Everywoman Retail Ambassadors awards!  To be amongst the other finalists who were such talented and inspiring role models was truly humbling and a highlight of my career with Avon.  Definitely not a night I'll forget.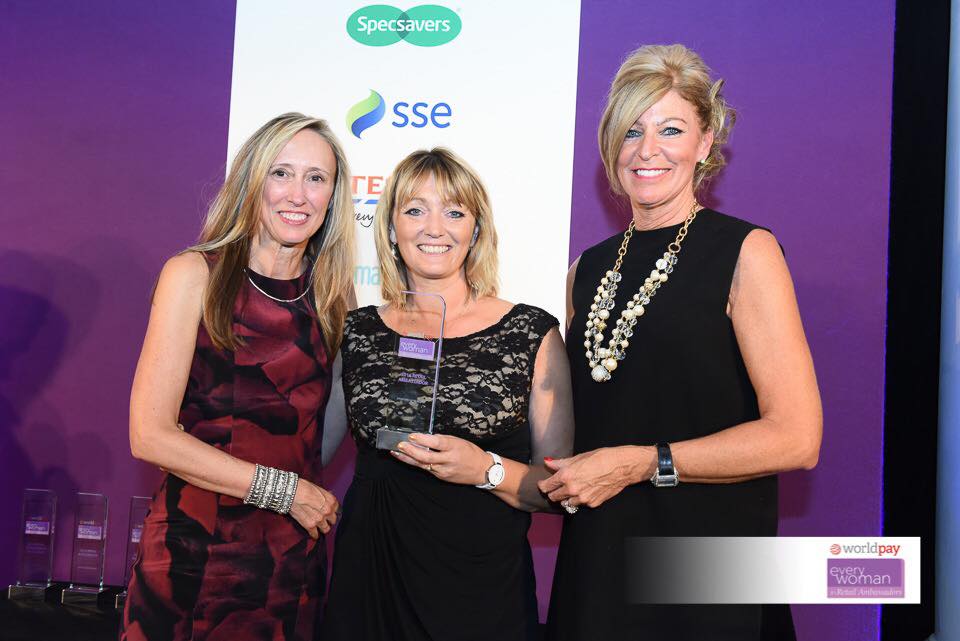 Zoe Davies, Avon Independent Executive Sales Leader, Avon announced as a 2016 Worldpay Everywoman Retail Ambassadors.
Starting her retail career in her early 20s, Zoe Davies progressed from part-time shop assistant to retail manager in under six months, running a pet food superstore. Seeking a more flexible working life after the birth of her second child, she took a job as an Avon representative, quickly progressing to a team leader's role, building a business with over 550 representatives and 30 sales leaders.
As the household breadwinner, Zoe's success at Avon has secured the financial future of her family. She had no university or college qualifications to fall back on, but embraced the Avon values of trust, respect, belief and humility and built strong relationships with colleagues and customers, which underpinned her success.
In 2015 she was one of just ten UK representatives to be part of the global Avon campaign Beauty for a Purpose, empowering women worldwide and helping them achieve financial independence through the Avon opportunity. Today she sits on the Avon Sales Council contributing to field insights, perspectives and feeding into quarterly plans covering sales, marketing and activation. 11 years at Avon have made her recognise the values of personal development and she thrives on encouraging and helping her team achieve their own goals and ambitions.
The 2016 Worldpay everywoman in Retail Ambassadors are:
Jacqui Chin, Chief of Staff, Amazon UK, based in London, Zoe Davies, Avon Independent Executive Sales Leader, Avon, based in Ilkeston, Phoebe Gormley, Founder, Gormley & Gamble, based in London, Rukia Hussain, Fresh Replenishment & Production Manager, Asda, based in Manchester, Kathryn Jaquet, Managing Director, RB Equestrian, based in Milton Keynes, Gemma Mason, Head of Customer Experience, Superdrug Stores Plc, based in London, Sheila McCrae, Regional Director, Gap, based in Glasgow, Laura Myatt, Branch Manager, Hobbs, based in London, Leigh Nelson, Retail Director, Specsavers Newtownards, based in Newtownards, Catherine Smith, Store Manager, Argos, based in Accrington, Ann Steer, Marketing & International Director, JD Williams, based in Manchester, Sarah Wakefield, Food Sustainability Manager, Co-op, based in Manchester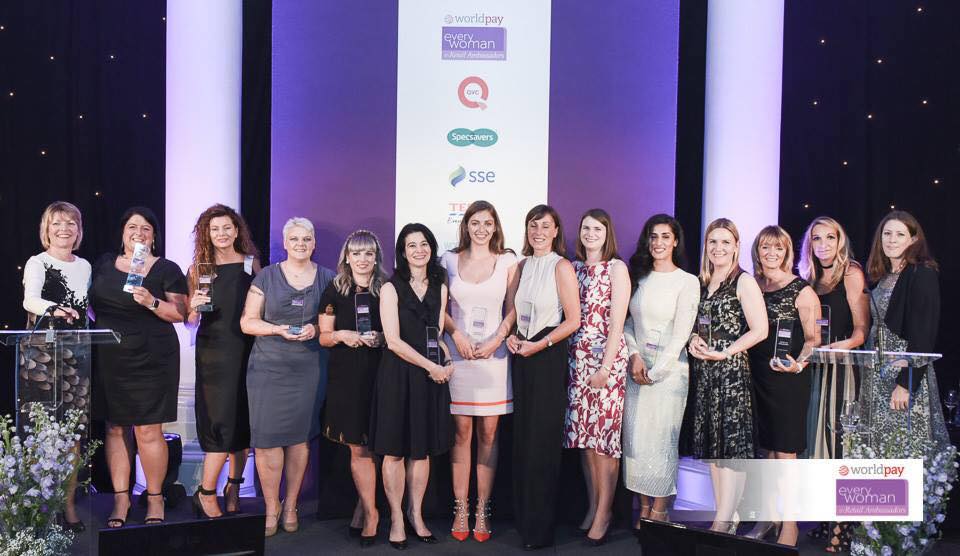 Maxine Benson MBE, co-founder of everywoman, comments: "Our 12 ambassadors exude confidence, enthusiasm, energy and ambition – the key attributes that have helped them achieve their status as sector role models. Our judges were struck by their willingness to take risks and their determination to see their ideas realised. We applaud their success and we now task them with sharing their stories, inspiring more women to experience the career opportunities and rewards offered by the retail sector."
Jo Baker, Chief Finance Officer Worldpay UK commented: "The retail sector is the UK's largest private sector employer, providing jobs for almost 3million people across the country – over half of whom are women. As a long-time supporter of everywoman, and partner to over 300,000 retailers across the UK, Worldpay are proud to be sponsoring this year's Everywoman Retail Ambassadors Programme. This Programme provides a national platform to champion the women who are pushing this industry forward and celebrates their successes. The stories we have heard tonight have been inspirational and all of the winners are truly exceptional. I hope their achievements will serve to encourage and inspire more women to pursue and further their careers in this dynamic and exciting sector."
The judging panel for the 2016 Worldpay Everywoman  Retail Ambassadors Programme comprised:
Sara-Jane Asquith – Director of Metering & Smart Transformation, SSE, Craig Bonnar – Vice President of Store Proposition, Asda, Lisa Crawley – Director of Financial Business Services, Worldpay, Roisin Currie – Group People Director, Greggs, Jo Delbridge – Director of Public Relations, UK and Ireland, Specsavers, Helen Dickinson OBE – Chief Executive, British Retail Consortium, Alex Duncan – VP of Applications Development – Customer and Business Services & Business Relationship Manager, QVC, Debbie Edwards – Vice President & General Manager, GAP Speciality Europe, Jacqui Gale – Chief Executive Officer, Arran Aromatics, Sue James – Editorial Director, Woman & Home, Meg Lustman – Chief Executive, Hobbs, India Martin – Chief Executive, Only Fingers + Toes, Carrie Rubin, Director, Pentland Group Plc, Jane Storm – People Director, Tesco, Nichole Viviani – HR Director, Worldpay.
About Everywoman:
Everywoman is an expert in the advancement of women in business.  They deliver a range of innovative products and resources that unlock the potential and talent of women in business globally. They also uncover success stories and elevate role models to support and inspire others across a diverse range of sectors.
Clients range from companies who want to develop and retain a pipeline of female leaders, through to individual women who are committed to driving their future success and inspiring others.
For those women starting out or looking to progress their careers, the EverywomanNetwork provides a wealth of personal development resources, advice, and inspiration to address challenges faced at key stages in business. Topics covered include confidence, time management, leadership, communications, presentation, well-being and profile. Available 24/7 with no geographic boundaries, these resources are inspiring tens of thousands of women in over 100 countries to achieve their career ambitions.
Managers and future leaders of tomorrow have access to offline events and leadership programmes that equip them with the confidence and competence to lead and develop high performing teams.
For those in senior management, EverywomanClub provides cross-sector networking and thought leadership. Members are profiled as role models through a variety of initiatives that are shared with thousands of women globally.
Importantly, Everywoman understand that role models exist at every level in business and the Award programmes profile the women who will inform and inspire future leaders and the next generation.
For further information about the Worldpay everywoman in Retail Ambassador Programme visit www.everywoman.com/retail
Save
To join Avon Online please visit – https://makeupinbusiness.co.uk/join-avon
To buy Avon Online please visit – https://www.avon.uk.com/store/beautyonline
Zoe Davies – Avon Independent Executive Sales Leader
Save
Save
Save