Earn and Save with Avon WOW benefits
Avon WOW points
All Avon representatives have access to Avon WOW points exclusive online shopping site.  It's shopping paradise with access to hundreds of great offers from over 3,000 brands!!
So how can you have more money in your pocket from using this site?  Well to start with there is a great range of reloadable shopping cards, save up to 15% on your shopping with these or if you like the big screen then there's fantastic savings of up to 50% on cinema tickets.
So how do I earn WOW points you may ask??
It couldn't be easier, simply shop with the retailers you love, but through the WOW points site.
And then the fun bit….spending those points you've earnt.  Shop with over 3,000 retailers or transfer your wowpoints into your bank account or purchase shopping cards to use online.
Save money at top retailers such as M&S, New Look, Sky. BT, Clarks, Tesco, Currys, B&Q, Expedia and many more.  You can buy your weekly shop, treat yourself to a new outfit, book a getaway or day out for the family and even switch your gas, electric or broadband provider.
WOW points are exclusively available to Avon representatives….apply online to join Avon here www.makeupinbusiness.co.uk/join-avon and once you are registered as a representative you can access WOW benefits through your online representative site.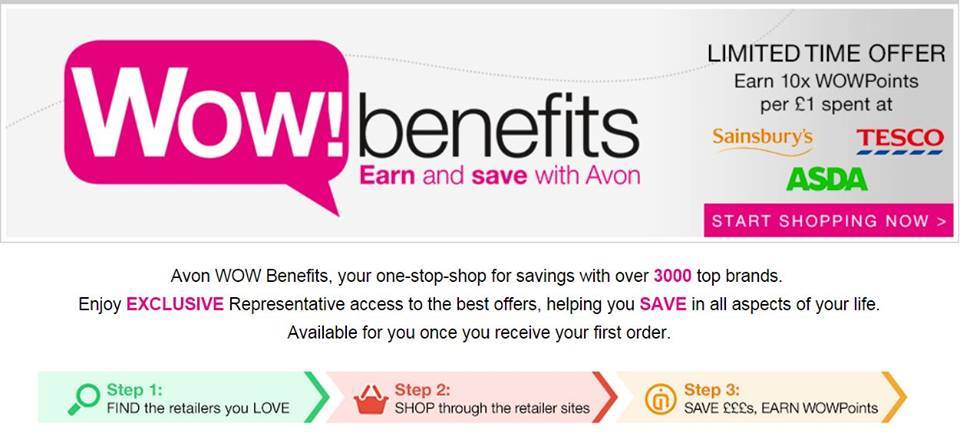 Some of the many other benefits of joining Avon are;
Free brochures to start with no obligation.
No cash outlay or kit to buy.
Your personal Avon Online Store to sell Avon from nationwide.
Earn up to 25% cash discount.
Exclusive representative magazine with fabulous discounts.
Free delivery and returns on regular orders.
Work from home.
Flexible hours – you work when you want to.
Meet new people and make new friends.
Unlimited progression through Advanced Leadership.
Great incentives – Avon Product Packs worth £350 are on offer for all new Avon representatives, this is the best incentive Avon have ever launched.  Join Avon with us and we will give you our full support to achieve all levels of this incentive, which runs over your first four orders.
If you would like more information on selling Avon Online please visit https://makeupinbusiness.co.uk/avon-faqs/ and download our FREE 30 FAQ's about joining Avon.
To join Avon Online please visit – https://makeupinbusiness.co.uk/join-avon
To buy Avon Online please visit – https://www.avon.uk.com/store/beautyonline
Zoe Davies – Avon Independent Executive Sales Leader
Save