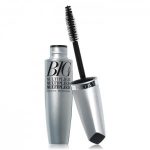 New from Avon Big and Multiplied mascara – set your lashes free and show off 100s more lashes.
Stand Out with Fanned Out Lashes!!!
Avon Big and Multiplied mascara is from the line of Big and Daring and Big and False lash mascaras.
Available in black or brown black.
This mascara is a triple threat – detailing and seperating lashes and increasing the volume.
Non clumping, smudge free  and waterproof, this is a perfect daily wear mascara.
Designed with smart slip technology so it sticks to lashes not itself for serious seperation.
Suitable for senistive eyes as it's hypoallergenic.
The thick densely packed brush has wedge shaped bristles to help seperate lashes for a fanned out finish and short bristles to hold the formula for more volume.
10ml at £8.50.
I'm a huge fan of mascara, it's the one makeup item I won't leave the house without wearing!!  So I was looking forward to this launch.  I wasn't disappointed, this is a great daily wear masacara with just enough coverage and volume to complement your eyes without being to heavy.  It wears very well and lives up to the fanned out – smudge free claim.  Would definitely recommend for daily wear.  Don't forget that Avon offer a 28 day guarantee on all products, even if opened and tried ….so you can buy with confidence.
Buy online at www.cosmeticstoreuk.co.uk
If you are not already a representative and would like more information on selling Avon Online please visit https://makeupinbusiness.co.uk/avon-faqs/ and download our FREE 30 FAQ's about joining Avon.
To join Avon Online please visit – https://makeupinbusiness.co.uk/join-avon
To buy Avon Online please visit – https://www.avon.uk.com/store/beautyonline
Zoe Davies – Avon Independent Executive Sales Leader